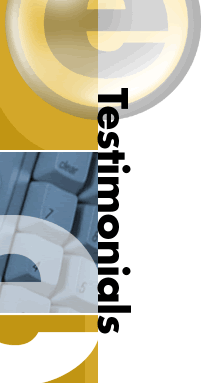 "I would like to thank you for your support and tireless efforts to make VA's catalog initiative a success. I have found you to be a very proud, hard working, dedicated, professional individual whom I have enjoyed knowing and working with".
-Rick Chapman, Dept. of Veterans Affairs, Office of Acquisition and Materiel Management (91A)


"When I first heard that I had to submit an electronic catalog, my heart sank. I am a one man show and my time is best spent in front of customers, not in front of my computer. I can only say that the experience of working with ECSI's 'ECAT KIT' was very positive. I was able to complete it in a minimal amount of time. ECSI's staff helped me through every step of the way, alleviating my fears and allowing me to get back to my customers."
-Chris W., Instrumentarium Imaging Inc.


"...ECSI's professional guidance has really helped us begin understanding and utilizing the GSA Advantage. It is quite obvious that you are one of the main experts who are driving and defining the future of federal e-commerce. It is really a privilege to work with such a bright and knowledgeable systems entrepreneur such as you as we explore the various avenues of approach required for the growth of our federal profit margins. And with E-Buy on the horizon, our Advantage! presence will grow..."
-Terry R., Xerox Corporation


"WorkRite has used the services of ECSI for almost two years. During that time, we experienced many growing pains that come from being a rapidly growing company and our first experiences as a government contractor. During this time, ECSI's help was absolutely essential. Their staff was knowledgeable about the procedures and people we needed to address and capably guided us through this process. Additionally, our contract with ECSI did not require many of these services; instead they were offered as a professional courtesy. ECSI's staff has continuously gone over and above the "call of duty" to insure our success. We have found them to be an invaluable ally and I recommend them highly."
-Jolene P., Workrite Ergonomics


"ECSI's program is fantastic. Easy to use and very complete. Add to that the outstanding follow up and support from your office and this is the best product to come down the Government supply line in a long, long time!"
-Don C., Rad-Mart Corporation


"…MMG's business is approximately 75% Federal with the remainder split between State & Local government and commercial. We hold five separate GSA contracts with approximately 800-1000 items. ECSI has provided a seamless conduit for us to GSA Advantage!. MMG is able to quickly and efficiently get all our product additions, changes and deletions on the GSA Advantage! system, thereby creating a real time environment for all our products on the worldwide GSA Advantage! website.

Our relationship with ECSI was a major factor in having our Federal business volumes increase by 64% from 1999 to 2000. This increase was apparent in our Federal Gross Revenue and Gross profit. ECSI has become an integral part of our business plan for the Federal government. They have become a true business partner and MMG actively seeks out ECSI for advice and counsel when it comes to getting our products in front of the Federal government. ECSI , specifically Henry Pope, has a depth of knowledge and experience that have proved invaluable in the overall success we currently enjoy in our Federal business.

…I would encourage Federal suppliers to use ECSI, because from my experience , this may be one of the most significant moves you will make in enhancing your business volumes with the Federal Government."
-Larry M., President, MMG Technology Group Inc.


"I am writing this testimonial on the behalf of ECSI, after a lengthy conversation with Henry Pope III, ECSI's president and founder. Mr. Pope was extremely helpful and informative in regards to the GSA Advantage! process, especially taking into consideration that my company, Millennium Solutions, Inc., is not currently a client of ECSI. In addition, he offered several contact names and numbers of others who may be of assistance in the government procurement arena. I really appreciated the time and information that Mr. Pope shared with me, and I wish continued success for him and ECSI."
-Binta G., President, Millennium Solutions, Inc.